Aboard the Oceanus!
Day 1: Arrival
Yes. That gull is trying to eat a starfish.
Day 2:
I wake up at the ungodly hour of 6:15 so I can beat my comrades to the shower and get ready for the day. As it turns out, no one is in the mood for a shower, so I have an hour to goof off. By 7:15 most of the scientists are present for breakfast. The cooks provide good fare; pancakes, eggs the way you want them, scrambled eggs, potatoes, bacon, fruit, yogurt, and other breakfast-y things to choose from. I end up stuffing myself a little more than necessary. Then Helen and I go to the designated parking lot to drop of her car and her keys for safe keeping until we return.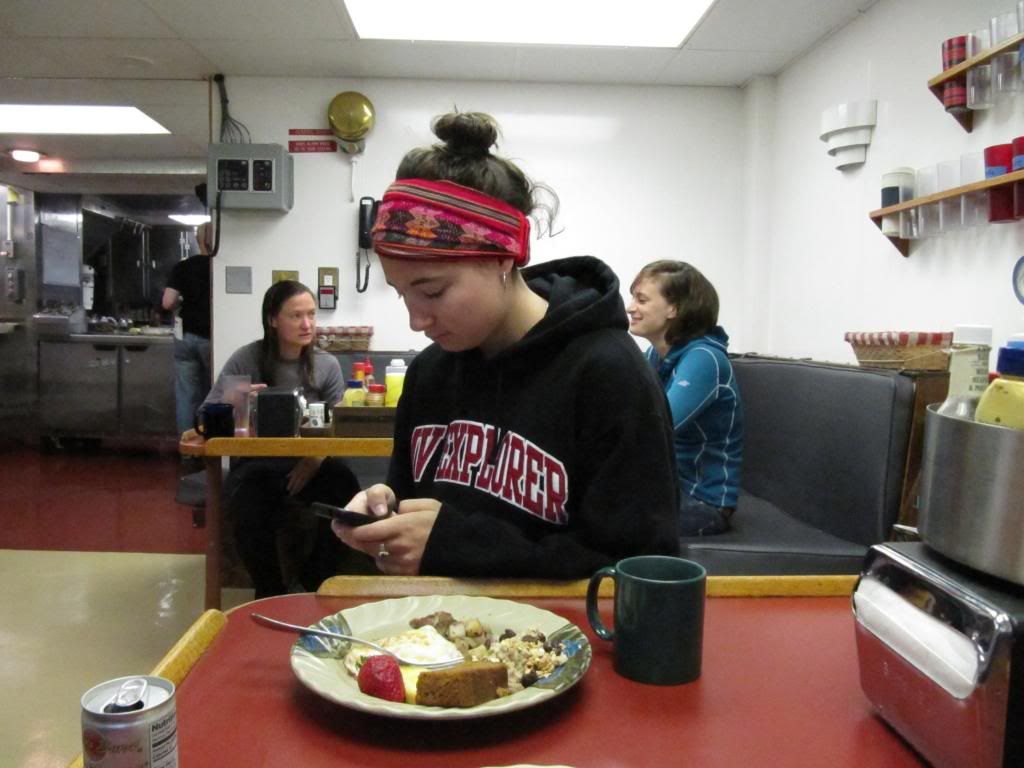 Helen texting at breakfast. Jenny and Kelsey are talking in the background. And that may or may not be Colin's elbow floating near the kitchen.
I go back to bed and then wake up in time for the 10:00 meeting. We learn some more details about what we will be doing on the ship (we had been assigned duties and shifts the day before) and then we listen to the mandatory and depressing safety lecture. Pro tip: do not put your super-duper life-saving hazard suit on until you are outside on the deck. If you put the suit on inside the ship and it floods, you will float to the top of the room and die anyway because you can't swim down to escape through the door to the outside. So don't do that. You're gonna have a bad time.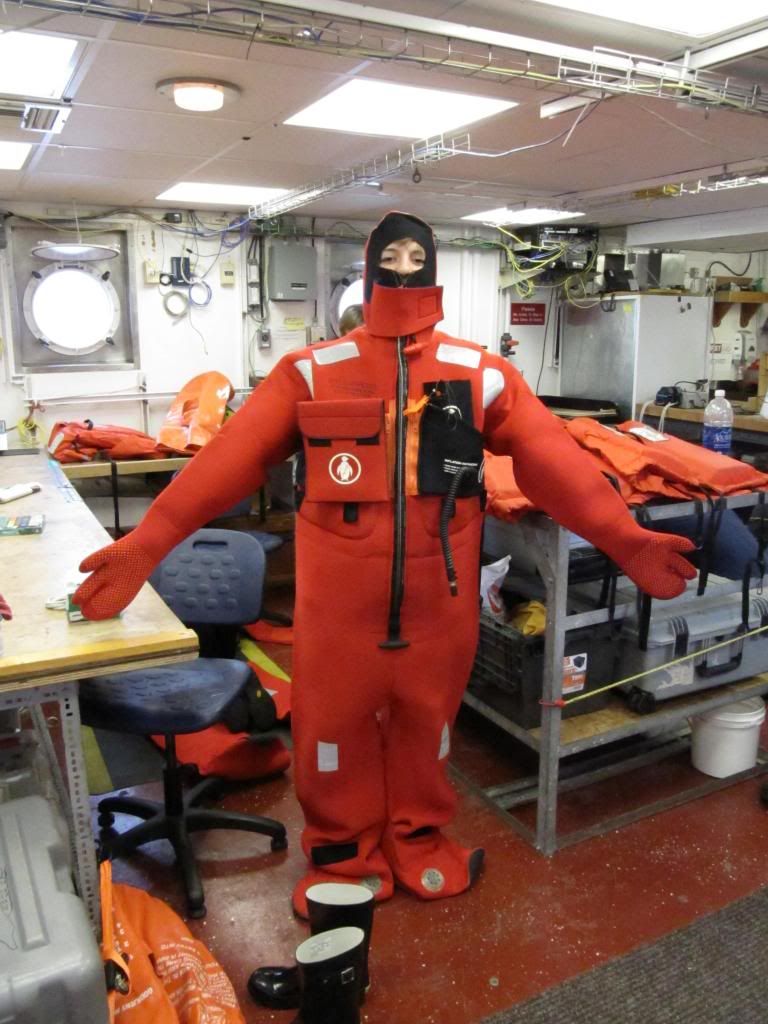 I know, I know, I'm wearing the suit indoors. Be quiet.
After our meetings, it's time to explore the Oceanus, and then depart!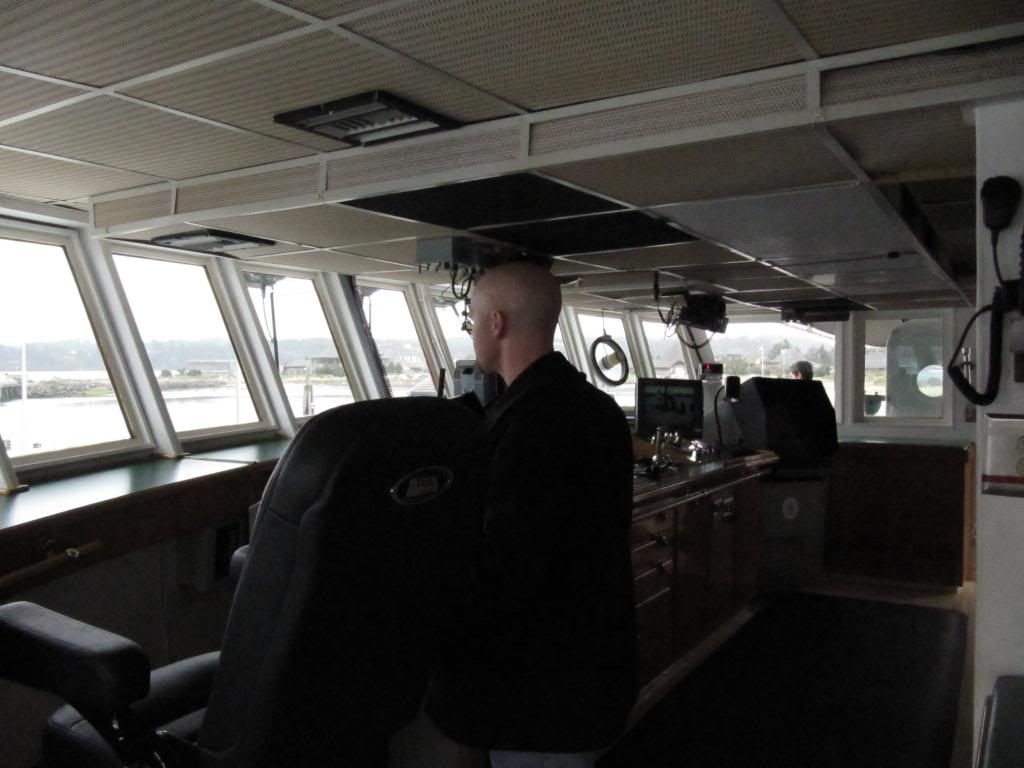 Colin standing beside the mysteriously comfortable Captain's chair. Not that I sat in it or anything. >_>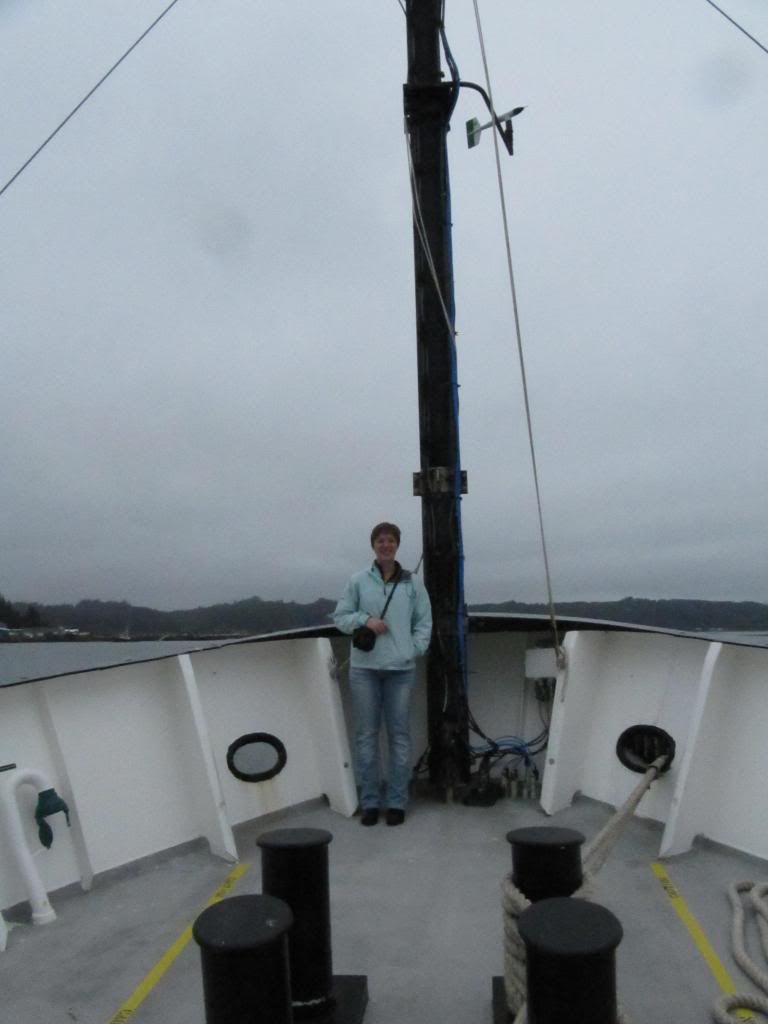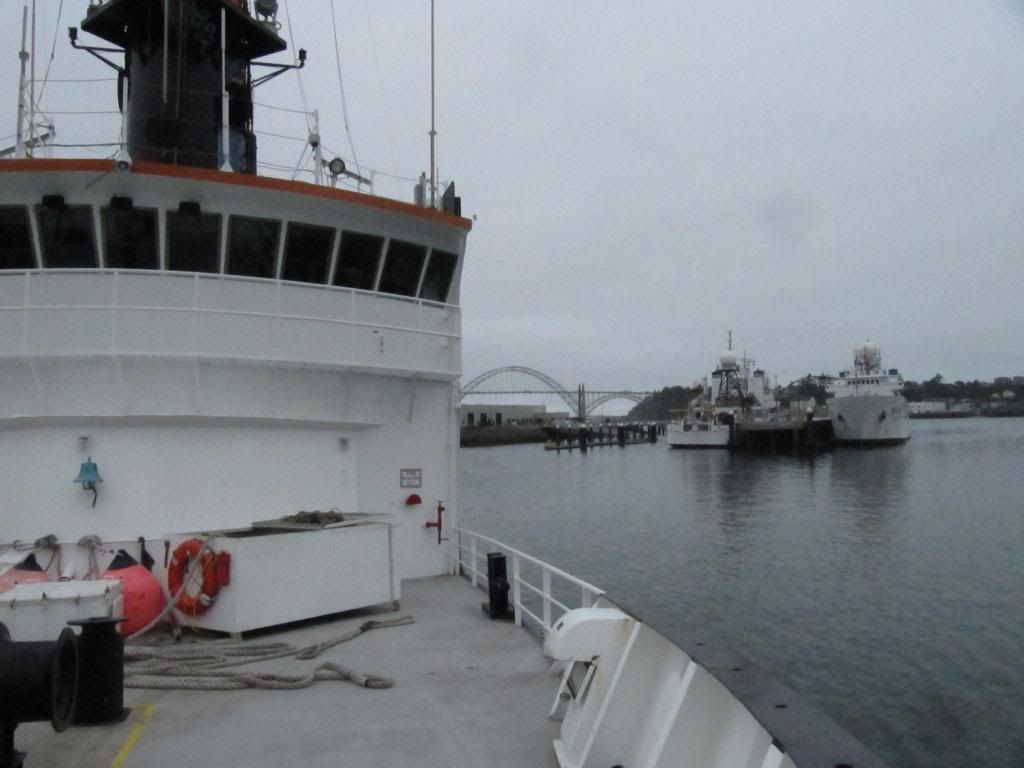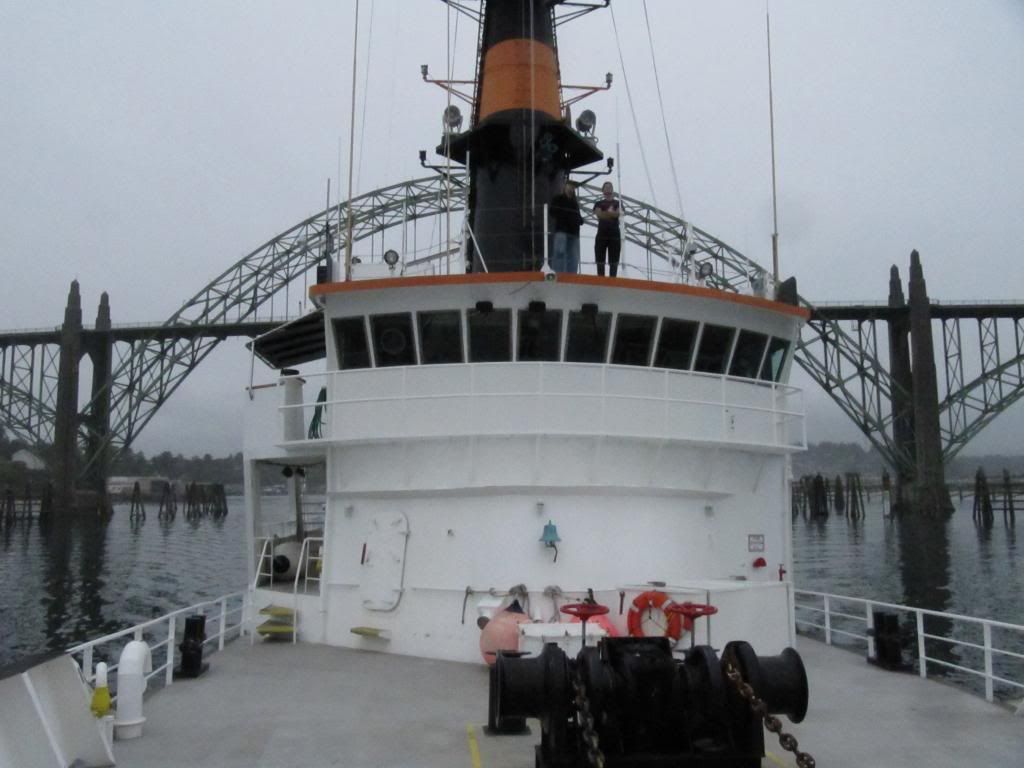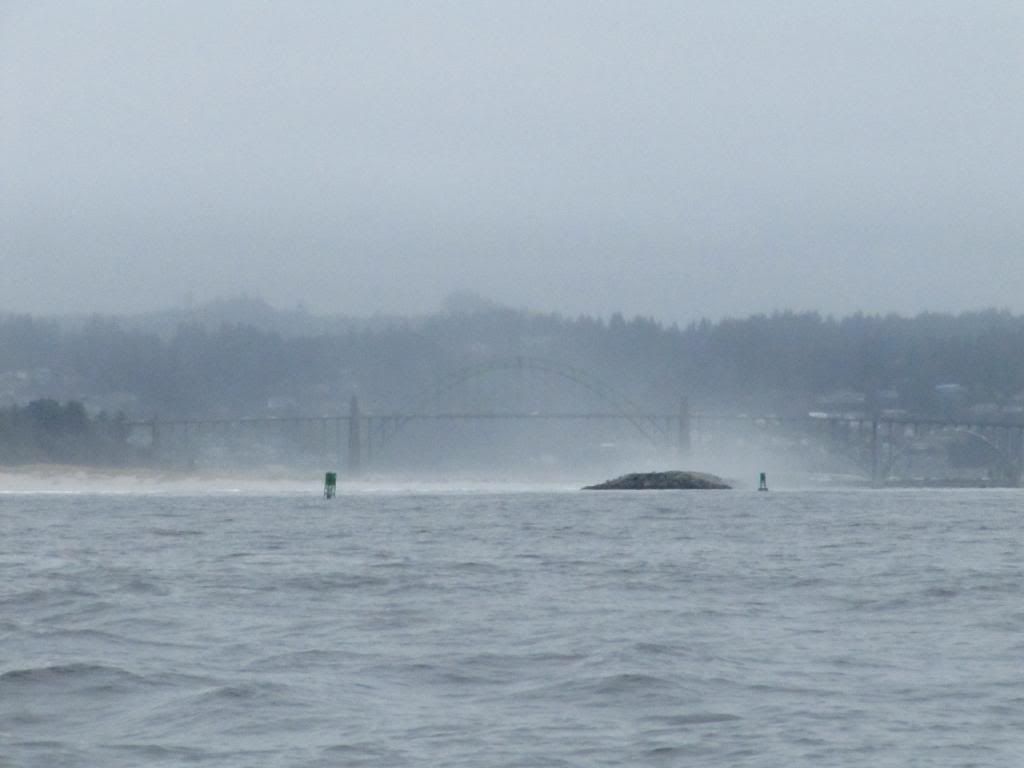 Okay, so now we have left Newport! What do we do next? Mooring and buoy-lifting of course!
The working scientist's uniform: hardhat and life vest.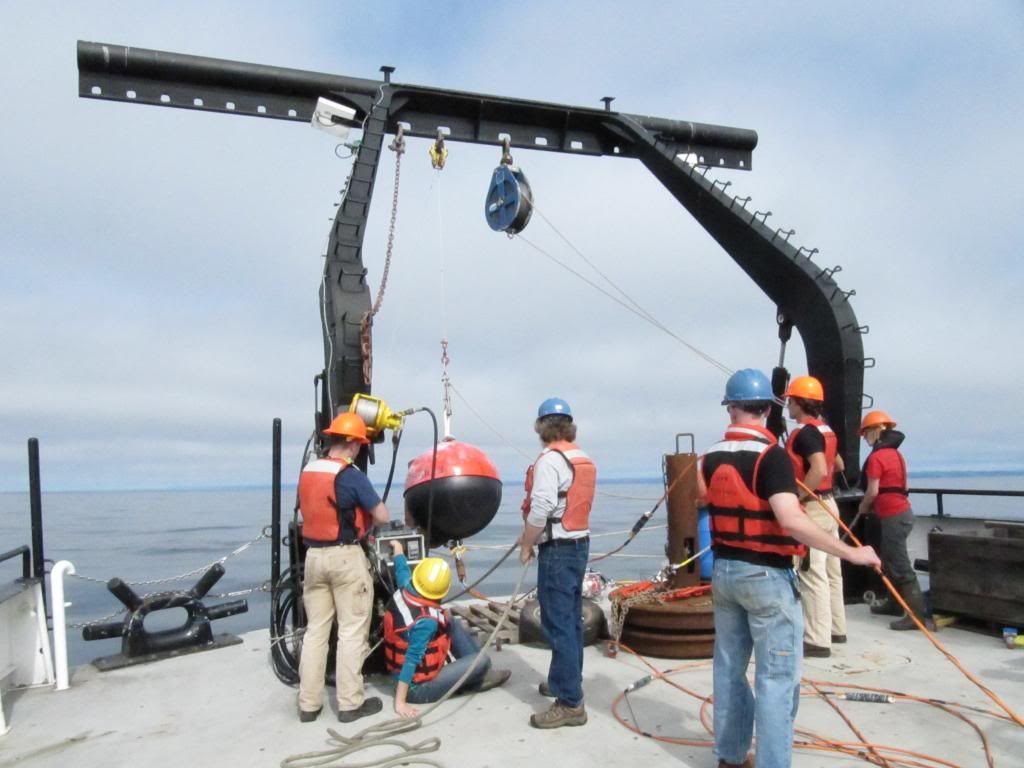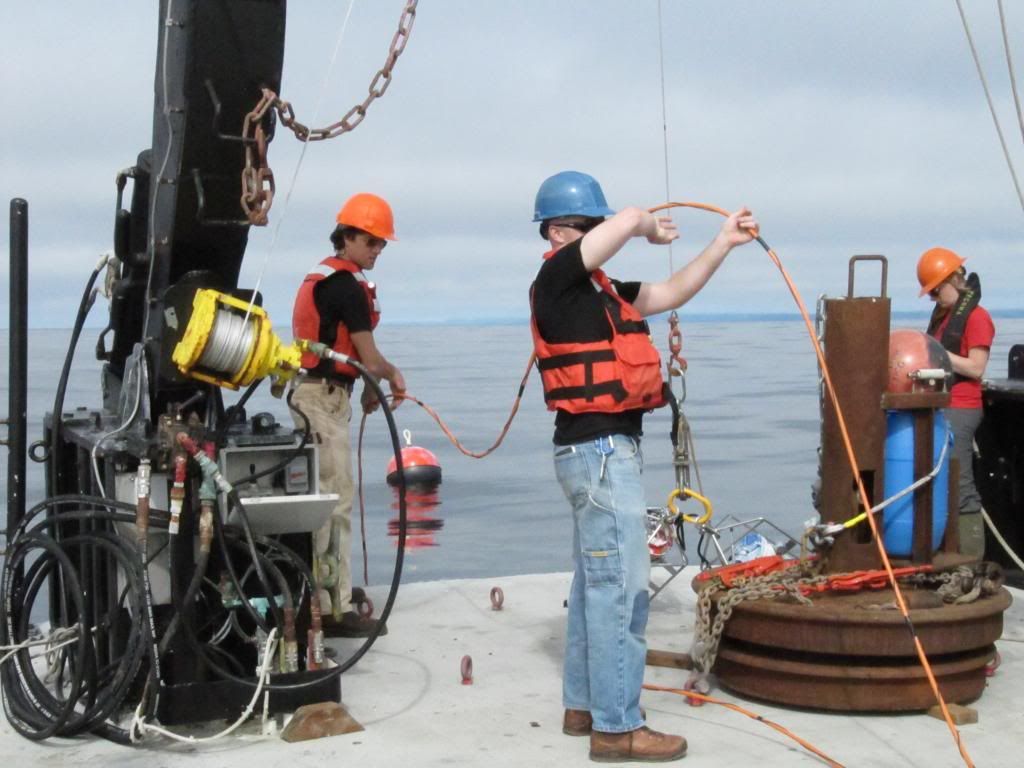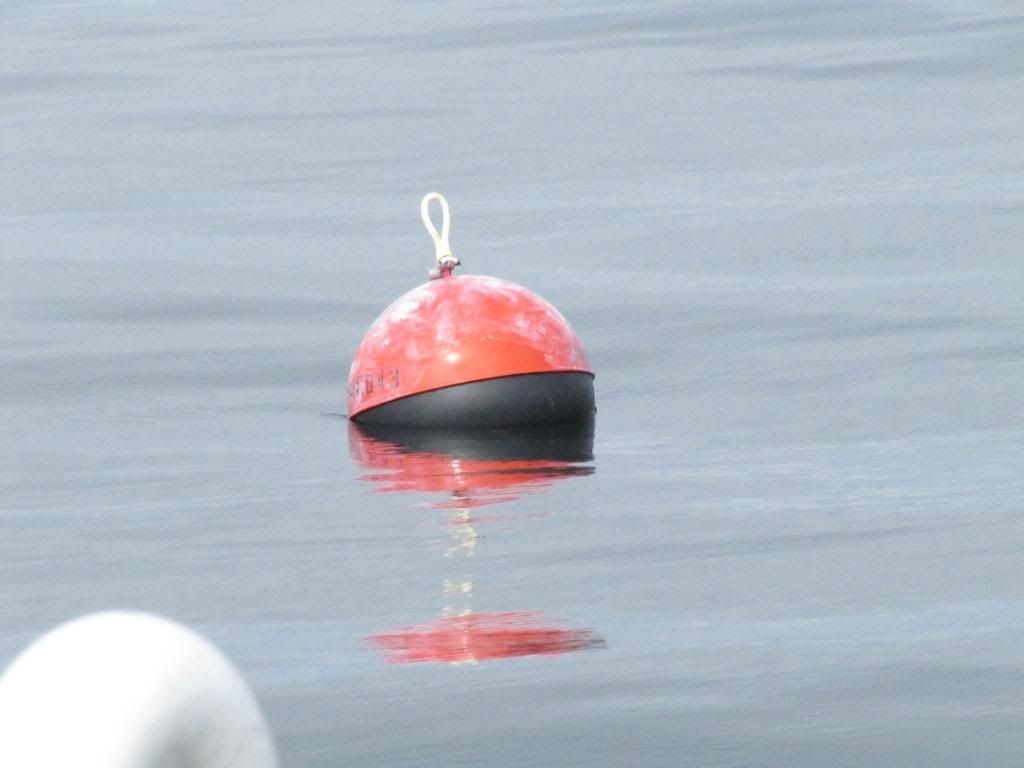 Proof that we put it in the water!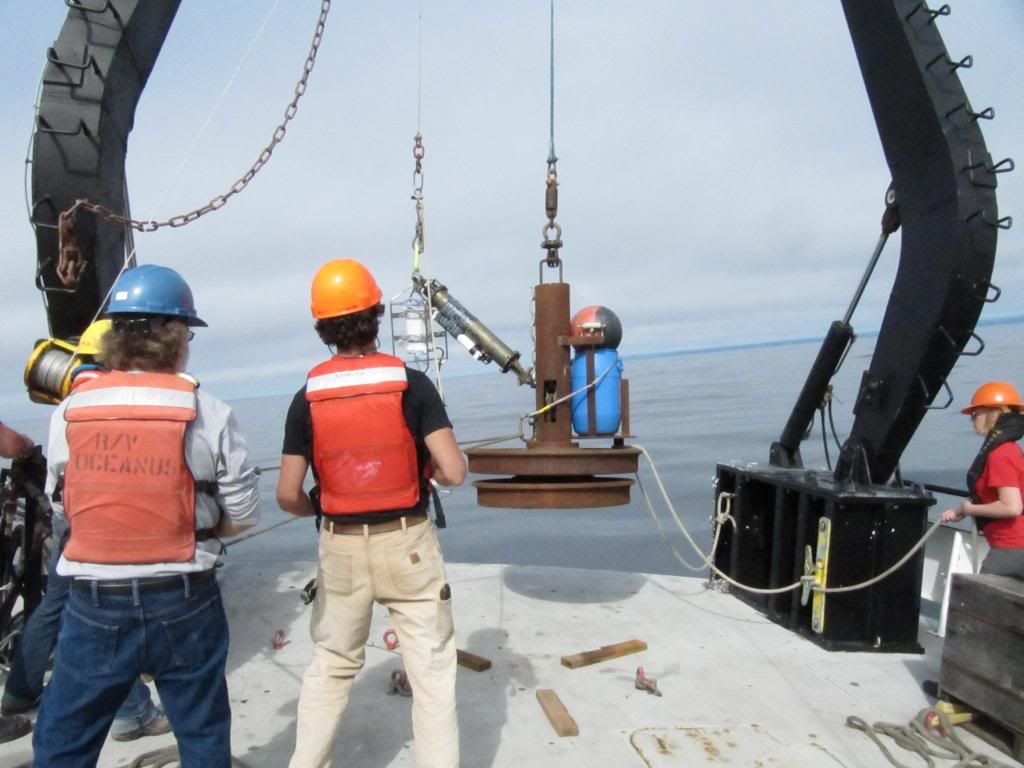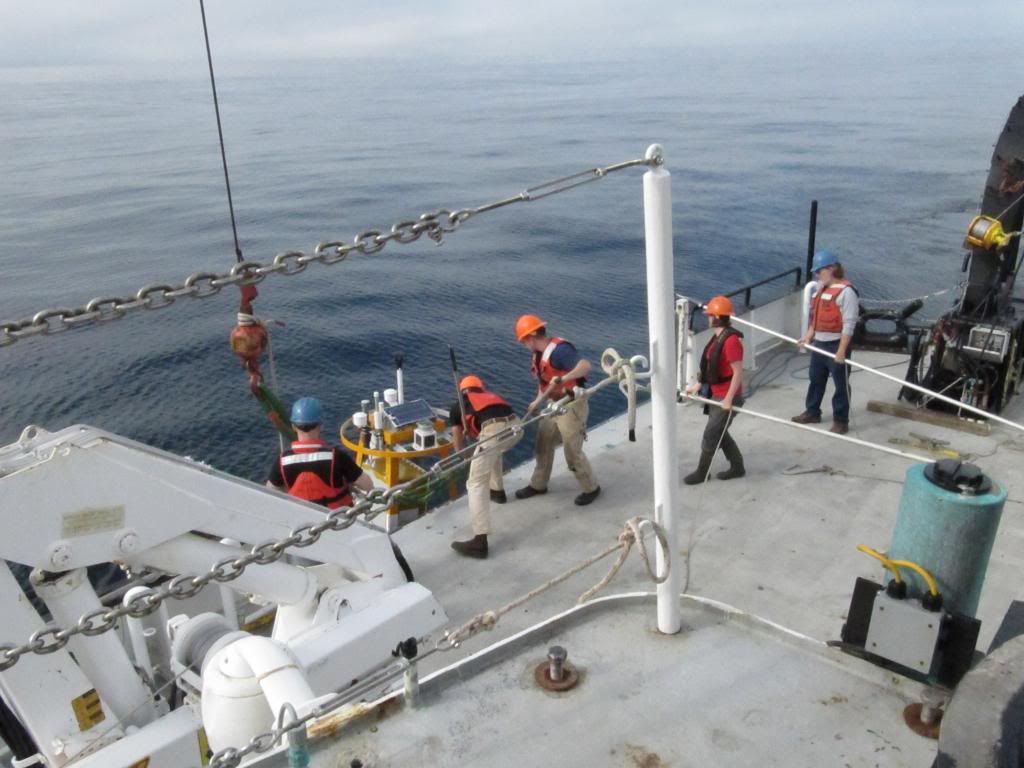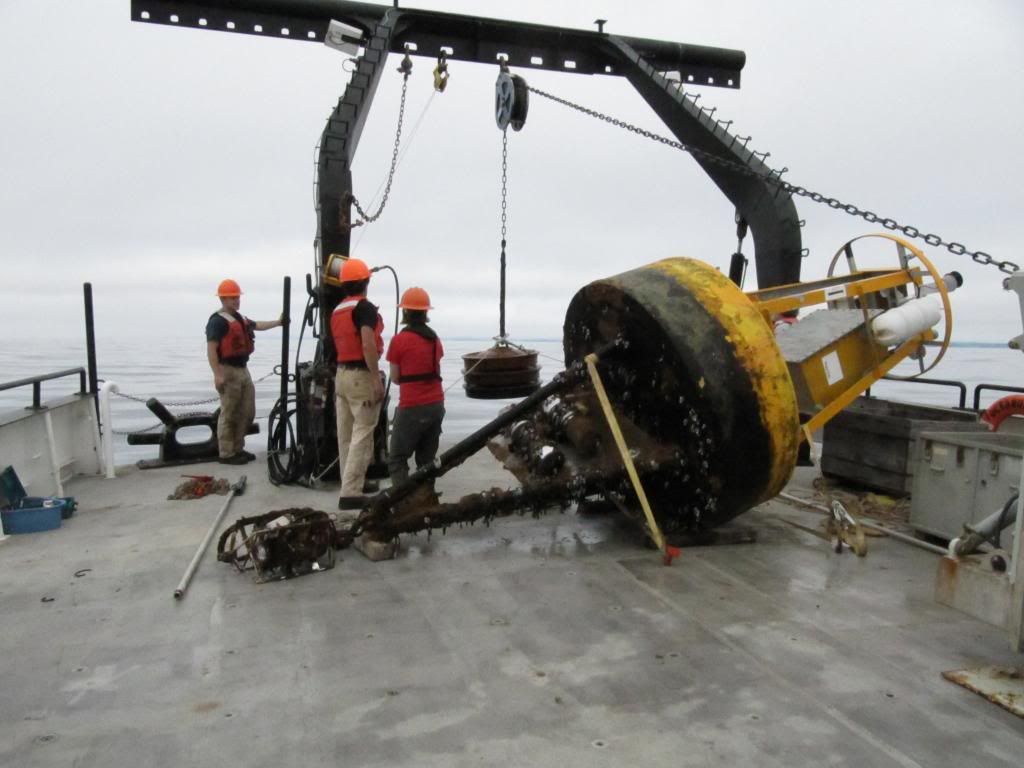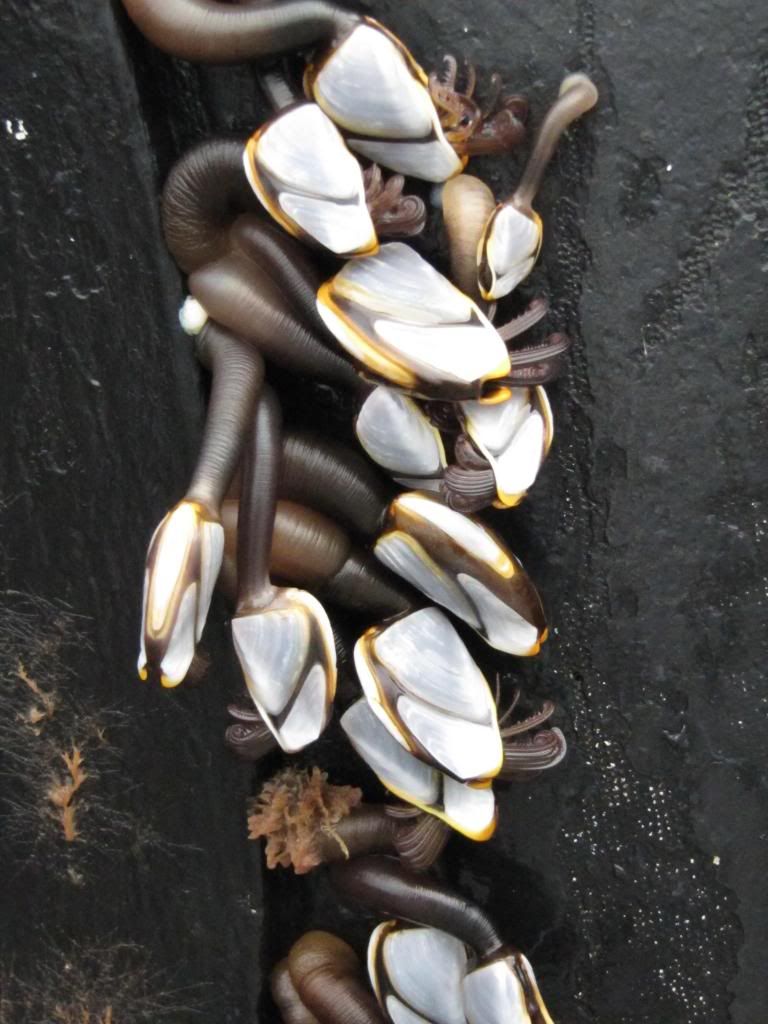 The buoy's former residents. RIP
Everybody gets a delicious lunch at 12:00 (every day after, lunch is served at 11:15) and amazing cookies for snack. I am slightly ashamed to admit that I gained weight this trip, but seriously, those guys know how to bake cookies! After dinner at 5:15, my team has a go at deploying and recovering the CTD scanner for the first time. Helen's team (the night shift) take over and work for the rest of the night.
The Conductivity, Temperature, and Depth Scanner ...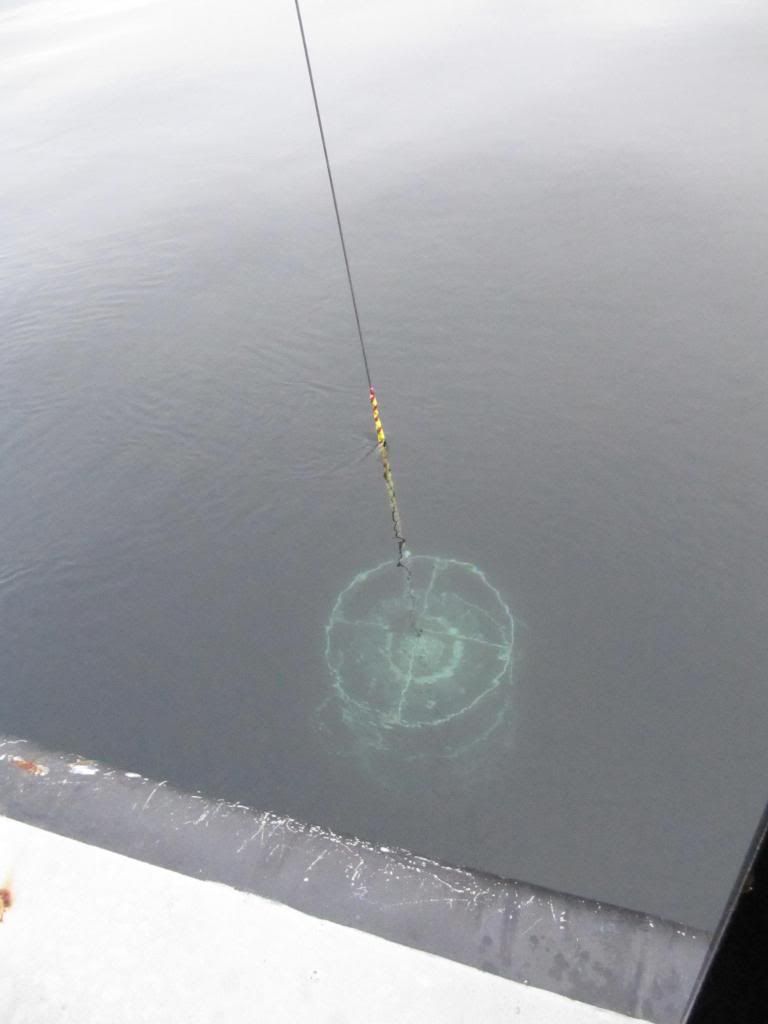 ... in the water.
That night I am rocked to sleep in my bunk as Helen, Colin, Kelsey, and their fearless leader toil away with only ChocoTacos and any remaining cookies to sustain them.
Day 3:
Helen returns from her shift in time for me to keep her awake with my morning ritual of showering and hair-drying (of course I am as loud as possible, heh heh) and then I take off for breakfast. To add insult to injury, I discover that I don't have to work until 1:00, so I get to go back to bed and nap while Helen sleeps for the first time since yesterday. It is clear that sleep deprivation will not be included in my schedule.
Well, there is such a thing as karma. I have to take pills for seasickness later in the day so I can work normally while my roommate slumbers nausea-free. Fortunately, I adapt very quickly (must be my Dutch heritage), and I don't have to take medication again for the rest of the trip. My team completes 3 scans by the end of the day.
Wildlife report: many ocean-faring ducks and two swallows are spotted, in addition to the usual gulls and cormorants. We get to see ctenophores float beside the boat, although they disappear after we move too far from land. And the super cool find: sunfish! The crew announce it when they spot special animals on the intercom so the rest of us have a chance to rush outside and take pictures.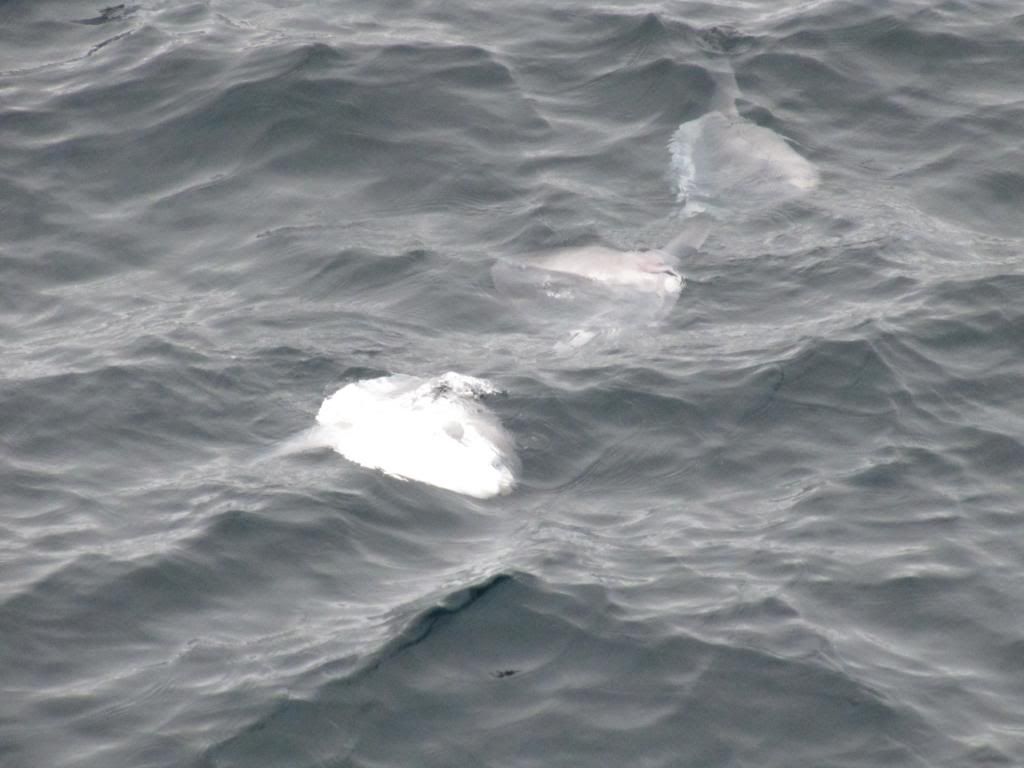 These are sunfish, in case you can't tell.
Day 4:
It's only the third day we've been at sea and I'm already getting lazy. I arrive 5 minutes late to the lab and find out I've already missed out on the first CTD scanner recovery. On the upside, Helen and Kelsey decide to eat breakfast with us before going to bed after working a long night shift. The day is otherwise uneventful... until the man-overboard drill! Sadly, no one took any pictures. We also experienced our first casualty, even though the drill began in high spirits and hilarity. You see, land birds had started accumulating on the ship, taking advantage of the metal sanctuary to rest and catch bugs while they were so far from land. None of the birds minded us much either so long as we didn't chase after them. Maybe they were too tired to be afraid of us, or hadn't learned that humans can be malicious predators. I don't know. But as the crew was doing its job in the middle of the drill, one small brown bird got scared. It flew over the side of the boat... and then fell into the water. The salt water made its feathers heavy. It tried over and over to fly back onto the boat, and the man who already had a pole in his hand to recover the dummy tried to scoop it out, but missed. Then Chip tried with a broom, but the bird fell off and floated out of reach. All we could do, short of putting our lives at risk, was watch it float away.
Needless to say, I and some others were extremely upset after that.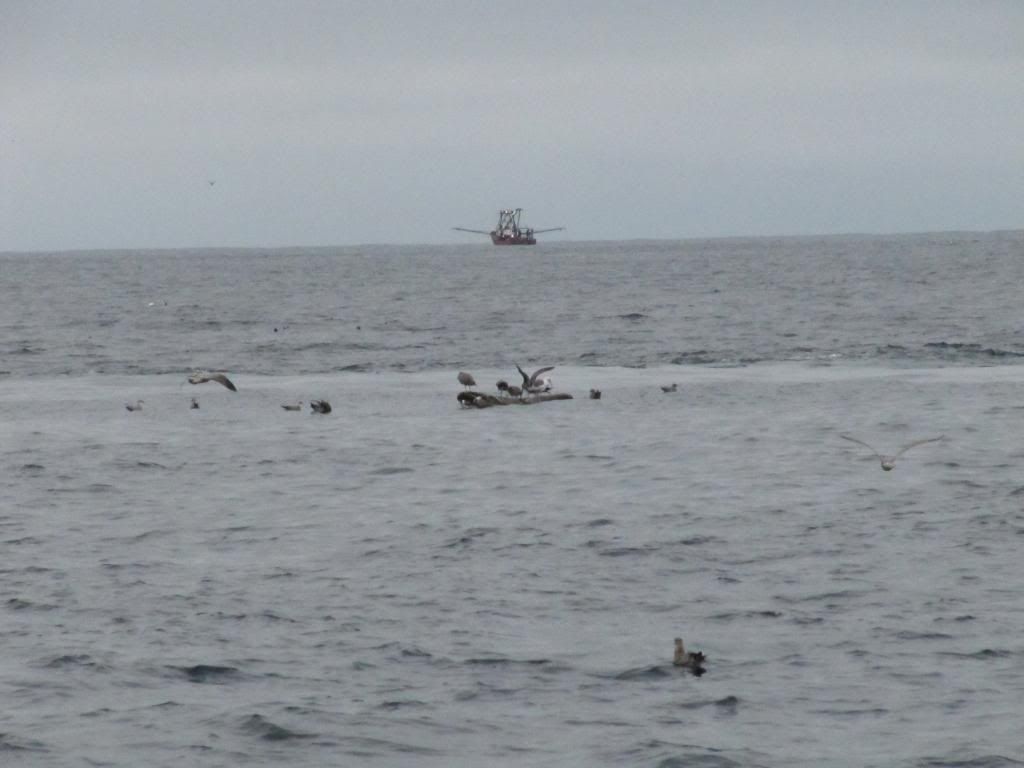 We were in the vicinity of a few fishing ships, which helped increase our bird population.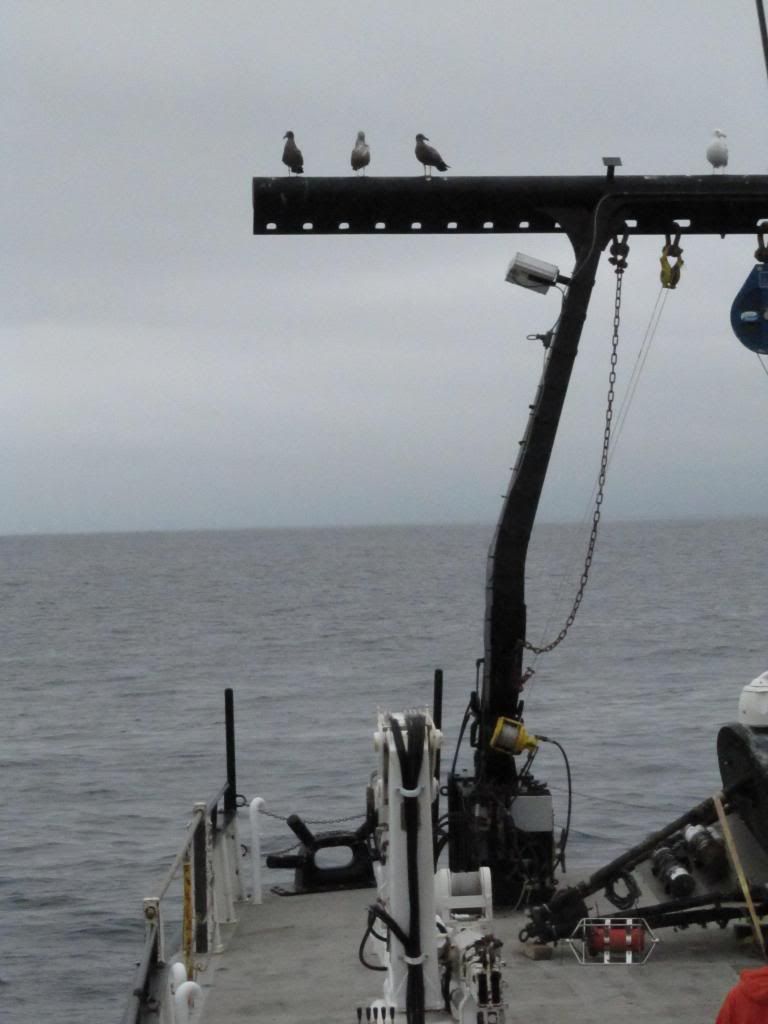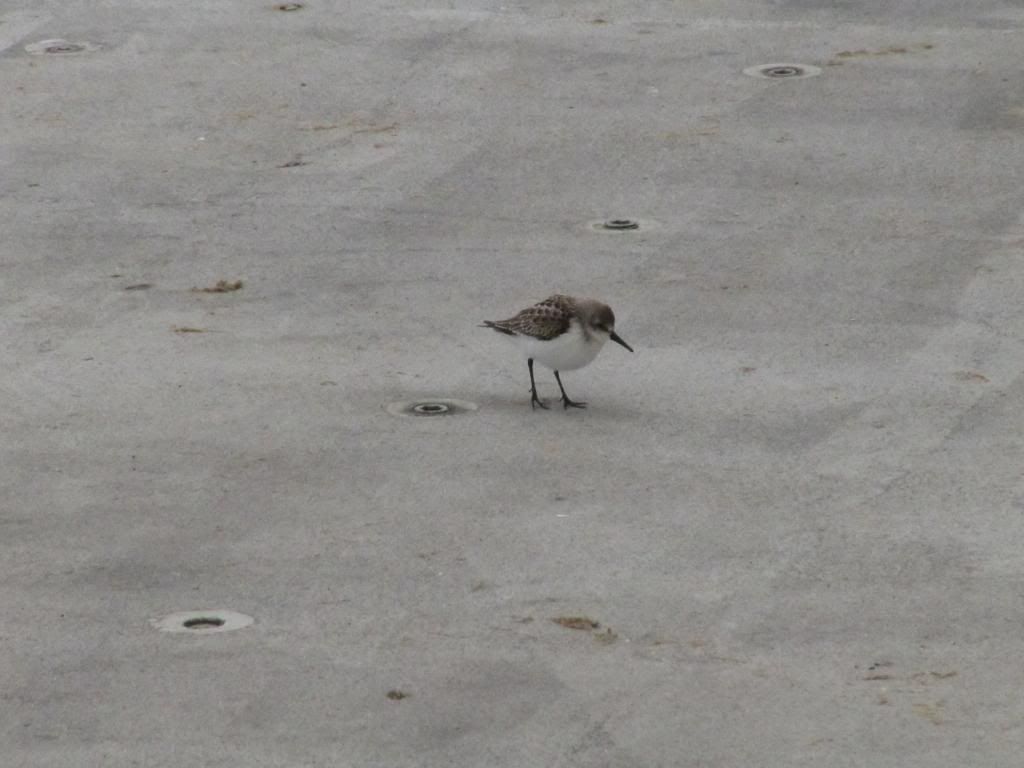 This amusing sandpiper is looking for food in each of the holes in the deck.
After the drill we resume our usual activities. I eat WAY too much dessert that night because the cooks decide to serve us cheesecake, in addition to their typically delicious cookies. So much sugar!
Day 5:
I wake up this morning with high expectations and get ready for the day in good spirits. Then, with my team's first deployment of the day, we have our second casualty. Another small brown bird had gotten stuck to one of the tubes attached to the CTD scanner that night. David Shumway is able to pry it off, but the poor thing slips out of his hands and tries to fly away... except it can't. So it gets trapped in the water just like the other one, and as hard as we try, we are not able to find anything to bring it back onto the ship before it disappears. A couple hours later our fearless team leader, David Langer (I hope I spelled that right), realizes that I am still upset about it and suggests that I ask for boxes from the cooks to put birds into if we find any more. I finally calm down because I feel like I've done something. Then we all move on with our day.
Things get much better after that.
By this time the Oceanus has moved up the coast toward the mouth of the Columbia river. We travel back and forth in front of it to take current measurements, etc., and this is about the time when we start to see jellyfish! Miles and miles of large, orange, placidly floating jellyfish.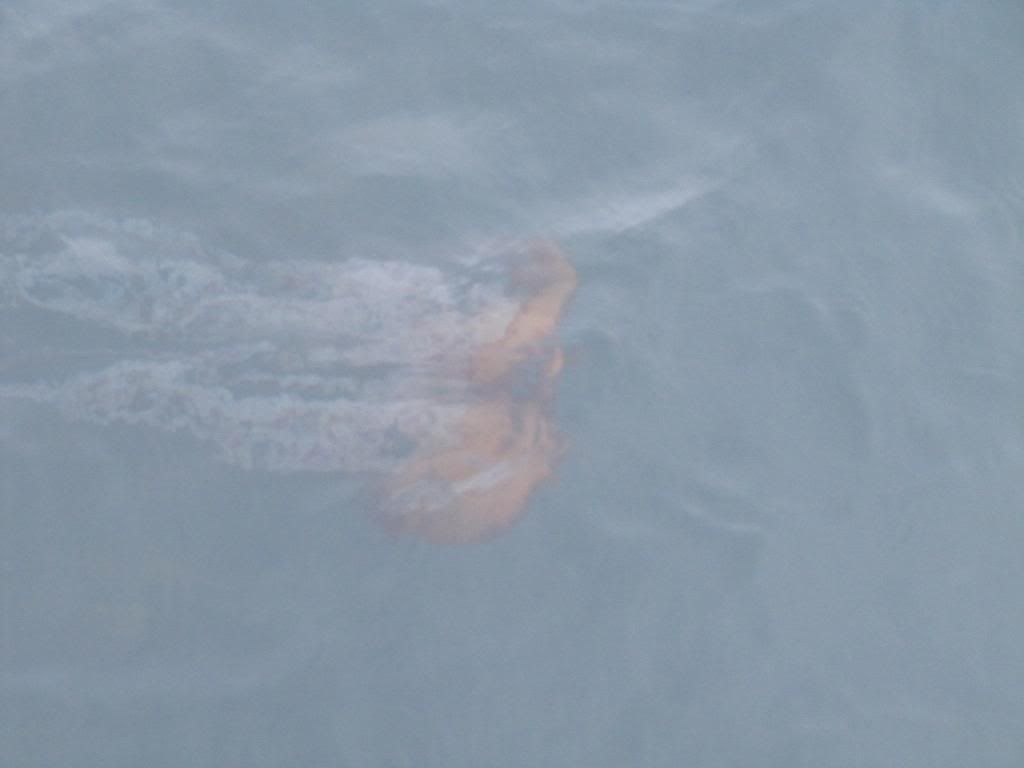 Two jellyfish. I know, it's hard to tell.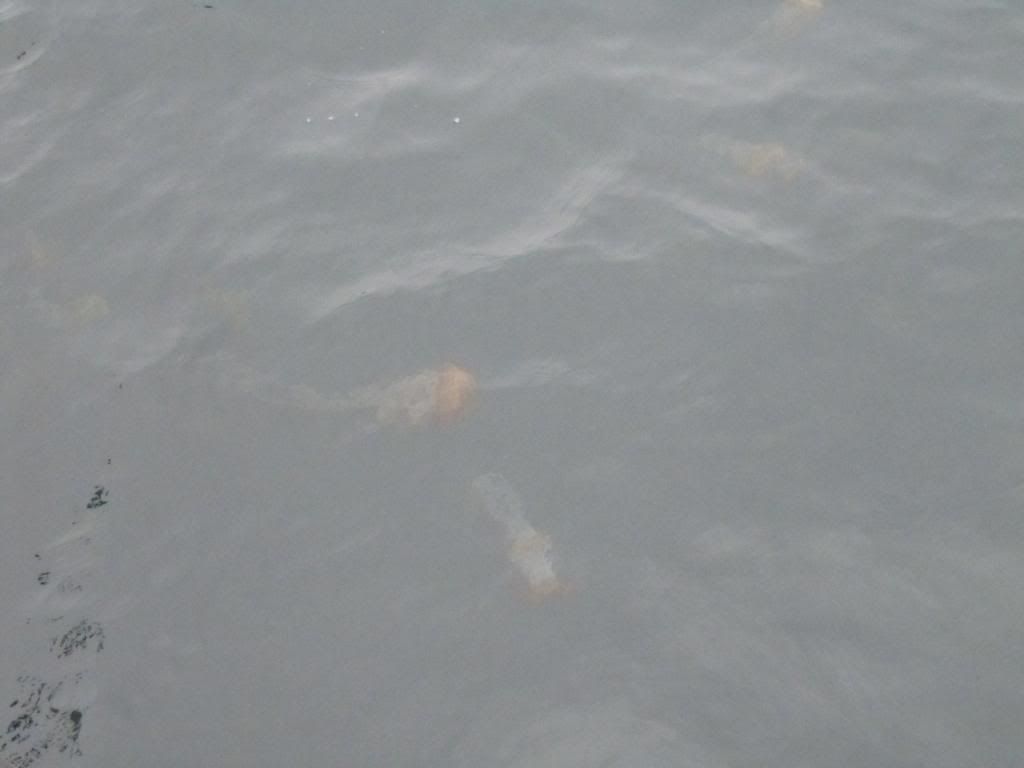 Lets play a game of "count the jellyfish". I see at least four. How many do you see?
Unfortunately for the jellyfish, the CTD scanner moves quickly through the water and does not bother to avoid them, so when we bring it back onto the boat it is covered in strands (fortunately no whole jellyfish, so theoretically they should have all survived). Shenanigans ensue as the scientists try to accomplish their jobs quickly without touching the strands. "Gah! Watch out, there's a red strand, here I'll spray it off for you," (water squirts everywhere and someone shouts out as they get wet in the process). Then, with practically the last recovery in the jellyfish zone, we realize, "Oh, I guess most of the strands don't actually sting." Oops.
I spend most of the rest of the afternoon reading a book and watching
The Blues Brothers
with David Shumway. That night, representatives from both the day and the night shifts deploy the CTD scanner for the second-to-last time while Colin plays "Taps" on his penny whistle. It is a solemn moment for less than a second. Then we run inside to play spoons!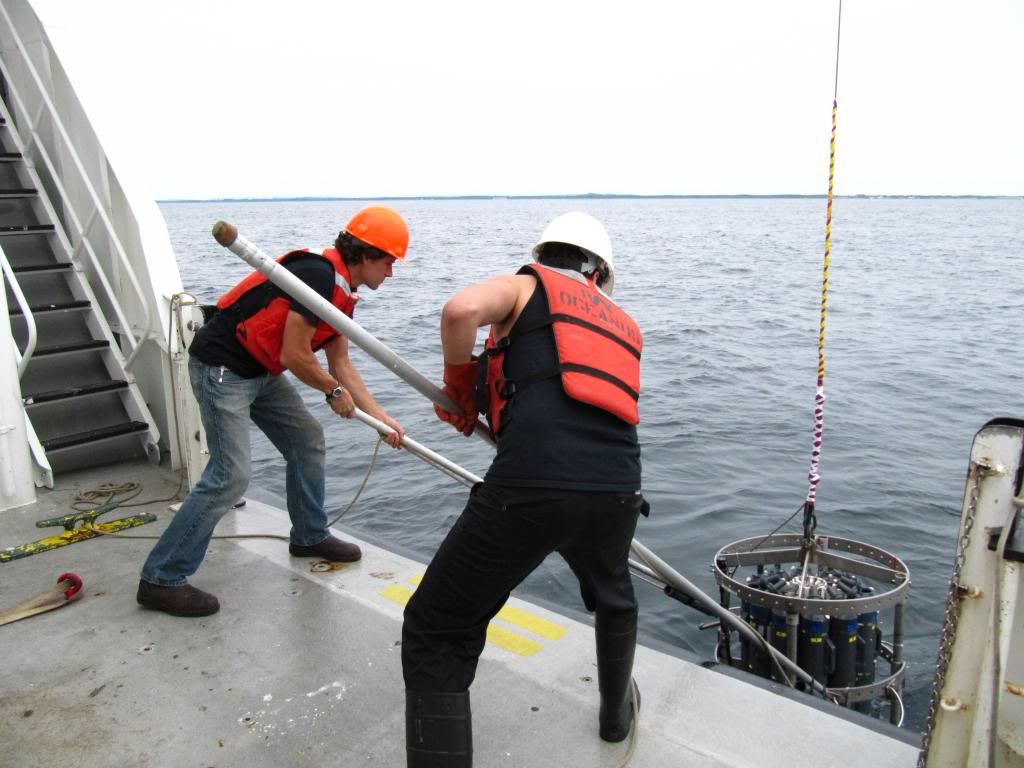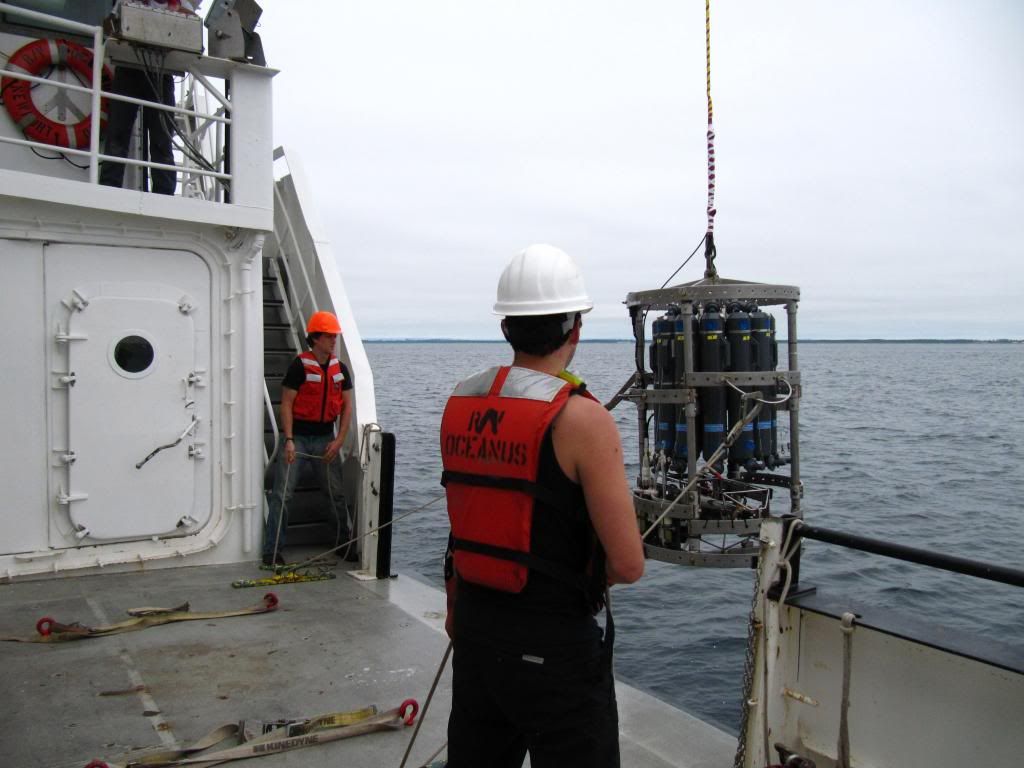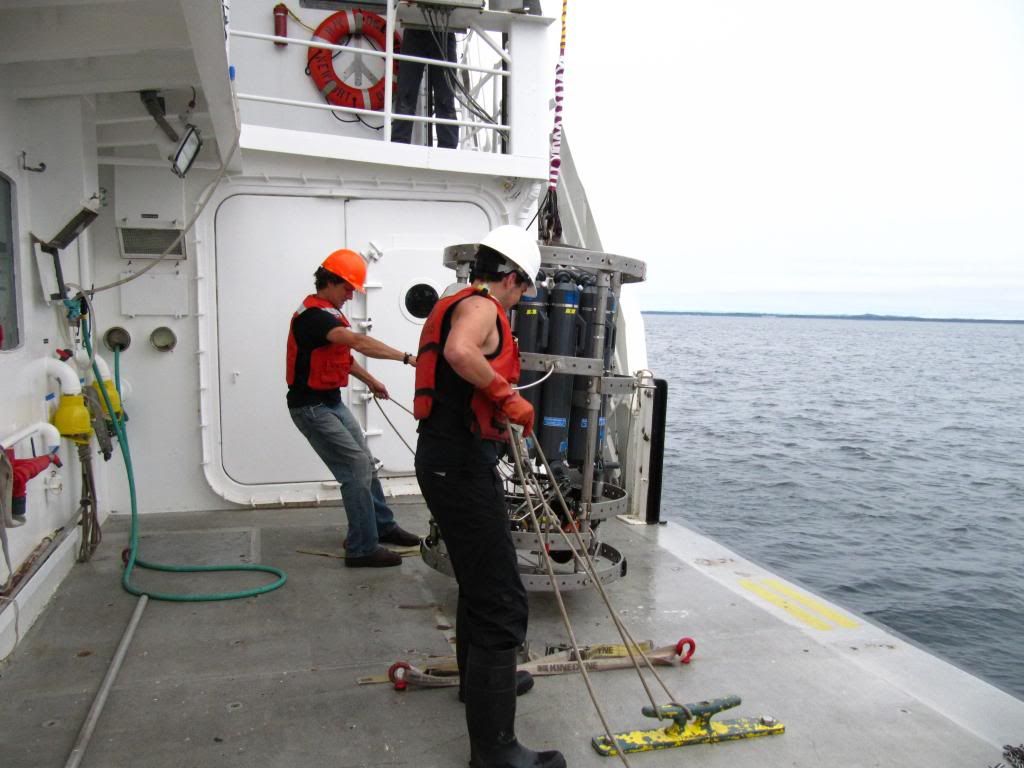 The recovery process, performed by 2/3 of the Davids. Also pictured: the legs of the crew member controlling the winch.
Day 6:
Man, talk about a high-speed getaway! We spend the entire night traveling from the Columbia to Newport and arrive around 6:15. I barely sleep because of all the rolling and jostling. Everyone eats breakfast, Helen goes to retrieve her car, we load up, and then after a few goodbyes we depart for Eugene. Some folks stay to help, but we are ready to go home. Besides, there are plenty of fresh ears waiting to hear our adventures, now that we've come back to land. :)
Helen, Jenny, the third David, and someone's shoulder sitting in front of the computers where all the data-collecting magic happens.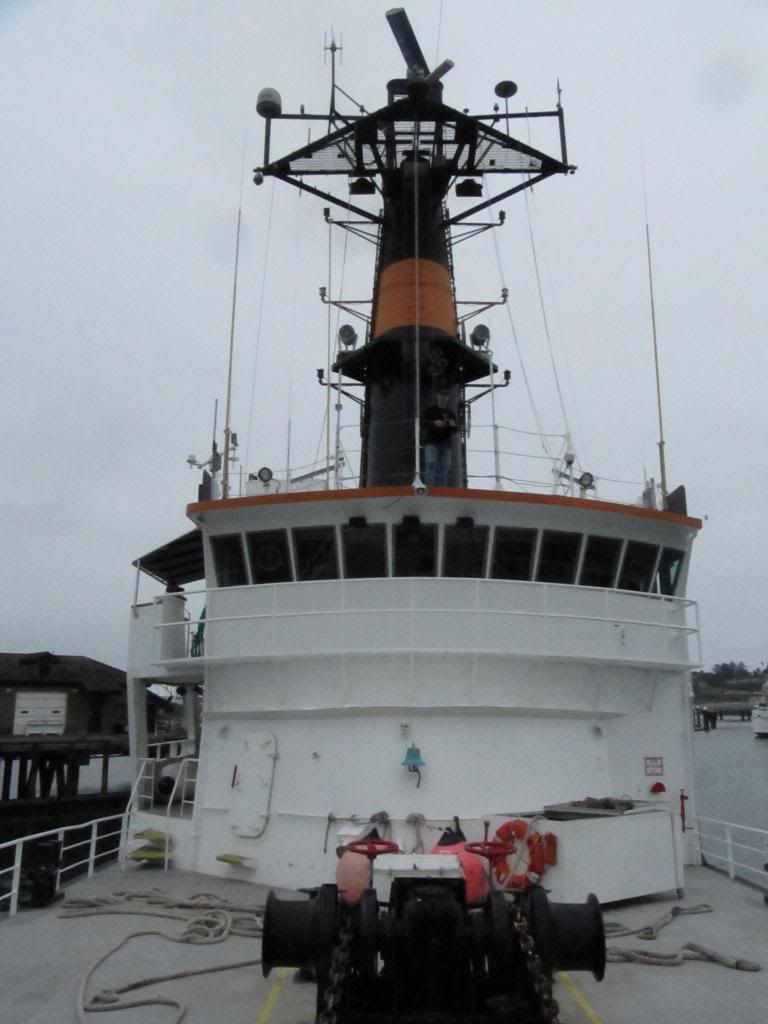 Goodbye!